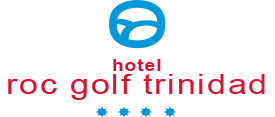 The Roc Golf Trinidad Hotel offers you the possibility to enjoy a hotel in Playa Serena, Almería, to experience your holidays with your golf group or your partner in a beachfront accommodation of Roquetas de Mar, with 4 star services and top class attention to detail
Overview
The services of Roc Golf Trinidad Hotel are designed for the golf loversand for those who like enjoying their time to the utmost with their partner and golfing groups in a unique environment. Buffet restaurant, entertainment, All Inclusive, games room, outdoor swimming pool, hair salon… And personal attention 24 hours a day, to provide you with everything you need.
ROOMS
Large, versatile and designed for couples with or without children. These are the rooms of Roc Golf Trinidad Hotel. A total of 329 rooms, decorated with great care to offer the maximum comfort at the beachfront of Playa Serena with 4 star services and cheap prices.
The double rooms of Roc Golf Trinidad Hotel offer 25 m² of space, ideal to accommodate 2 adults and 2 children (or 3 adults and 1 child) with total comfort.
They feature a terrace with views, 1 double bed or 2 single beds, sofa bed, fully-equipped bathroom with shower and bathtub, wake-up call, TV, desktop, cabinets, telephone and air conditioning.
Pricing
PRICING
There are no pricing grids on the website as it is not possible due to the various different possibilities such as length of stay, golf courses, airport & golf transfers.
The following are some of the lead in prices for this hotel with golf on the local courses.
3 nights with 2 rounds from €149
5 nights with 3 rounds from €249
7 nights with 5 rounds from €379