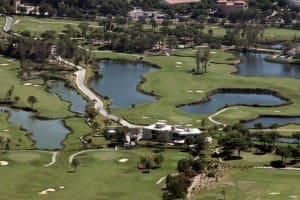 GOLF COURSES
Antalya Golf Club
The PGA Sultan Course | 18-Hole Championship Golf Course, Par 71, 6477 Metres
The PGA Sultan beckons the heartiest of golfers to take a par 71, 6477 metres challenge. European Golf Design and David Jones spared nothing to maintain the competitive level of the course, while at the same time blending it seamlessly into the forest environment. Created for the discerning golfer, the PGA Sultan delivers a stern but rewarding test of golfing ability that any keen player will relish. A true yardstick by which to gauge skill.
The Pasha Course | 18-Holes, Par 72, 5731 Metres
At an inviting 5731 metres, You may think that The Pasha would be a walk in the woods, but don't fooled by the scenery! The Pasha will test the skills of high and low handicappers alike with a combination of different challenges. Tricky dog legs, cleverly placed bunkers and undulating greens will ensure that even the more experienced golfer must think over each shot carefully. The shorter length coupled with generous fairways will not unfairly punish the higher handicapper for any wayward shots.