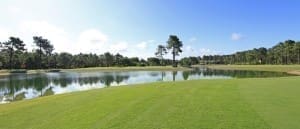 Set in a pine wood with several lakes, and benefiting from a microclimate that allows you to play golf all year round, the AROEIRA I and II golf courses offer players of all levels a stimulating and varied challenge.
Aroeira Golf Club was founded in 1973 and today has around 500 members who play regularly over the 36 holes at Aroeira.
The Club's sporting calendar is made up of 9 Order of Merit competitions which determine the champions in the respective classes.
Over its thirty-year history Aroeira Golf Club's teams have won several titles which bring honour to the club and its members.
AROEIRA I

This 18-hole course was designed by architect Frank Pennink and opened in 1973. Specialists say it is one of the best in Europe and it hosted the Portuguese Open in 1996 and 1997 and a number of Ladies Opens.
AROEIRA II
Aroeira's second 18-hole golf course, Aroeira II was opened in April 2000. Its architect, Donald Steel, took care to comply with European Tour recommendations and designed a course with future Portuguese Opens in mind. Its 18 long greens wind round 5 lakes and the various tees for each hole mean it can be played by players of all levels. For a number of years it has hosted the Qualifying School of Ladies European Tour and several Portuguese Ladies Opens.
GOLF SCHOOL
In order to increase the number of golfers both nationally and locally, Aroeira promotes a number of activities aimed at encouraging people to take up the sport. The Aroeira Golf School, from which a number of top national golfers have graduated, employs the teaching talents of Joaquim Moura (PRO), member of PGA Portugal and the school teaches all stages of the game. In addition to its human resources, the Aroeira Golf School has 2 driving ranges, 2 putting greens and image-recording equipment for later review and diagnosis.