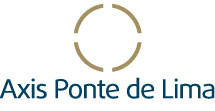 Axis Ponte De Lima Golf Resort Hotel
Ponte de Lima is the oldest "vila" in Portugal and is located in the heart of "Vale do Lima".
An ideal destination for a memorable stay!
The cultural offer to visitors also covers regional craft, local pilgrimage and traditions and their own cuisine.
Overview
Set in a low-rise building with stone accents, this modern golf resort is 3.9 km from Parque do Arnado, a landscaped park, and 14 km from the exhibits at Geraz do Lima Carriage Museum.
Ideally situated on top of a hill with a green horizon, the Axis Ponte de Lima Golf Resort Hotel is a two storey building, each with forty rooms, comfortably equipped with air-conditioning, satellite, Mini-Bar, TV telephone and internet access.
In Ponte de Lima, gastronomy satisfies lovers of "good food": quality ingredients, a combination of flavors "old" with "modern" knowledge provide the best food in the region.
Not forgetting cod (of all shapes and sizes) and the lamprey, the "sarrabulho" and traditional sweets
Let yourself be taken by the serenity, the bodily and psychological relaxation. Enjoy beauty treatments and promote your well-being in this stunning Spa at North!
This Hotel is equiped with various facilities for a pleasant and relaxing stay:
– Horse Riding
– Tennis
– Golf
– Golf School
– Heated Indoor Swimming Pool
– Gymnasium
– BTT
– Excursions
– Surf
– Canoeing
– Massage
– Turkish Bath
– Pools
– Bike
Pricing
PRICING
There are no pricing grids on the website as it is not possible due to the various different possibilities such as length of stay, golf courses, airport & golf transfers.
The following are some of the lead in prices for this hotel with golf on the local courses.
3 nights with 2 rounds from €
5 nights with 3 rounds from €
7 nights with 5 rounds from €