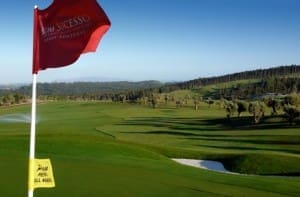 Bom Sucesso Golf Course provides the sport with excellent and unique conditions.
If you're looking for Golf Courses in Portugal, where you can practice the activity with the best natural conditions and performance support, whether you're an amateur practitioner or a professional practitioner, this is the perfect place!
The Bom Sucesso Golf Course covers an area of more than 60 hectares, on the banks of the Óbidos Lagoon and quite close to the sea. It stretches along the length of Bom Sucesso – Architecture Resort, Leisure & Golf, on a hillside with spectacular views of the sea and the lagoon, landscaped with lush Mediterranean vegetation and occasional exotic species.
Hundreds of old olive trees have been planted on the resort, combined with camellias, azaleas and magnolias, giving this golf course a unique setting, in a combination of green and blue.
The terrain of Bom Sucesso offered an excellent opportunity to create a golf course unlike any others Golf Courses in Portugal and in the World. It can challenge the best golfers, while providing excellent conditions for amateurs.
Should you occasionally feel like playing on a different course, Bom Sucesso golf course can offer you all the advantages of reciprocal agreements with other golf courses in Portugal.
In this area, golf fans, professionals or amateurs, will have all conditions for the sport, including a stunning natural surroundings that invites to relaxation and mental rest.
Do not miss the opportunity to enjoy one of the best Golf Courses in Portugal and take time to explore the region and its many tourist attractions.