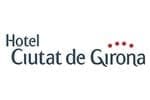 The Hotel Ciutat de Girona is located in the most emblematic area, in the historical and cultural center of Girona. Surrounded by the most charismatic places and the best shops in the city.
Overview
The Hotel Ciutat de Girona is set in the historic and cultural heart of Girona, a 10-minute walk from Girona Train Station and is situated just a few hundred meters from the river and the historic bridges of the city. Surrounded by the most charismatic places and the best shops in the city. The hotel combines style and modern decor with pictures of the most representative places of Girona.
The 44 rooms in the hotel offer comfort, style and functionality to cater to all types of guests from singles, couples or groups.  Rooms come with free Wi-Fi, flat-screen satellite TV, a safe and a minibar.
Blanc restaurant serves local products, all of which come from within a 100 km radius. It serves a hot and cold buffet breakfast every morning. The restaurant also offers a cheap menu both at lunchtime and at night, without discarding the possibility of eating a la carte dishes which are made with local products.
The Ciutat hotel offers a range of facilities and treatments to its guests from heated swimming pools, jacuzzi and cycling room. In the area of ​​treatments and therapies you can enjoy a wide range of preventive and curative massages.
The ideally located hotel is in close proximity to several golf courses in the area.
Pricing
PRICING
There are no pricing grids on the website as it is not possible due to the various different possibilities such as length of stay, golf courses, airport & golf transfers.
The following are some of the lead in prices for this hotel with golf on the local courses.
3 nights with 3 rounds from €
5 nights with 4 rounds from €
7 nights with 5 rounds from €