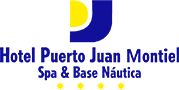 Hotel Puerto Juan Montiel
Hotel Puerto Juan Montiel Spa & Base Nautica is situated opposite Águila's marina and the Mediterranean Sea offering a top quality location to match it services levels
Overview
There is direct access from the Hotel Puerto Juan Montiel Spa to 2 beaches and to Águila's seafront promenade. Guests can enjoy special rates at the Juan Montiel Marina, which is situated next to the hotel.
The Puerto Juan Montiel Spa & Base Nautica has a 1,000m² spa centre, available for a surcharge. A thermal circuit and a range of treatments are available here. These include anti-stress, infra-red and chocolate therapies, as well as beauty treatments.
The hotel restaurant offers buffet meals with show cooking, a pub and a cafeteria.
The rooms at Hotel Puerto Juan Montiel Spa & Base Nautica feature free internet access and satellite TV. Each one comes with a safe and a private bathroom.
The basic double room at the Hotel Puerto Juan Montiel is ideal for all kinds of stays: single nights, business trips, leisure trips, guests travelling alone, couples or friends. Double Rooms at the Hotel Puerto Juan Montiel are equipped with two beds and a desk, and are modernly decorated. They all also have a bathroom with bathtub.
Furthermore, they all have air-conditioning/heating, a mini-bar (available at an additional cost), smoke detectors, an electronic lock, safe, piped music (Radio FM), cable internet. You are also provided with a hairdryer, magnifying mirror, large mirror in the bathroom, satellite TV, telephone on the bedside table, telephone in the bathroom, desk and a full-length mirror.
Pricing
PRICING
There are no pricing grids on the website as it is not possible due to the various different possibilities such as length of stay, golf courses, airport & golf transfers.
The following are some of the lead in prices for this hotel with golf on the local courses.
3 nights with 2 rounds from €
5 nights with 3 rounds from €
7 nights with 5 rounds from €