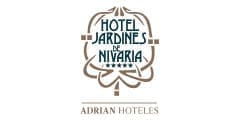 JARDINES DE NIVARIA Hotel
Jardines de Nivaria is an oasis for all those seeking quality, service and relaxation. The surrounding area of this luxury hotel on the Costa Adeje, offers a wide variety of shopping centres, restaurants and leisure options.
Overview
Jardines de Nivaria, a 5* hotel considered one of the most luxurious in the south of Tenerife, is located on the seafront in the exclusive Playa de Fañabé area, Costa Adeje, just 17 km from Reina Sofia international airport.
The architecture, services and personalised attention to each guest are what make this hotel stand out, making it the winner of multiple prizes and the ideal destination for an unforgettable holiday in Tenerife. The hotel has facilities for golfers, spa lovers,weddings, incentive trips and events in general
An excellent choice for playing golf, improving your swing and enjoying some of the Tenerife best golf courses
The location of the Hotel Jardines de Nivaria is a distinct advantage for golfers, as it is handy for several golf courses in the south of the island.
Enjoy golf in Costa Adeje golf courses close by,  the hotel has a number of facilities for golf lovers, including a 9-hole putting green for practice and lockers for storing golf clubs
ROOMS
Guests can choose from 271 comfortable and stylish rooms with select, elegant furnishings, distributed among five buildings. Our rooms include all the services you would expect from a hotel of this category, each with a balcony or a terrace with hammocks. There is Wi-Fi Internet access in all rooms and we also offer a 24/7 room service, just in case you need anything. Enjoy the luxury of a 5 star hotel in Tenerife
Pricing
PRICING
There are no pricing grids on the website as it is not possible due to the various different possibilities such as length of stay, golf courses, airport & golf transfers.
The following are some of the lead in prices for this hotel with golf on the local courses.
3 nights with 2 rounds from €
5 nights with 3 rounds from €
7 nights with 5 rounds from €