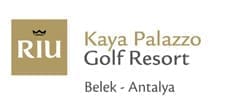 The Hotel Riu Kaya Palazzo (All Inclusive 24h) located in Belek, Turkey, has a 5-star service and a multitude of reasons that make it so special.
Overview
The Kaya Palazzo Hotel is a very modern and stunning 5* hotel that offers everything you could ever need during your stay. The All Inclusive packages that golfbreaks.ie offer for this fantastic hotel will certainly meet your expectation and you will also receive a preferential rate and tee time on the Kaya Eagles Golf Course.
The Hotel Riu Kaya Palazzo (All Inclusive 24h) located in Belek, Turkey, has a 5-star service and a multitude of reasons that make it so special.
On the shores of the Turkish Riviera, the hotel offers wonderful views of the sea and his great garden of 900.000m2. It is ideal for a relaxing vacation and to forget the stress accumulated. It has two swimming pools, an indoor pool, sauna, jacuzzi, steam room and spa treatments and massages.
To taste some of typical dishes from Turkey, the buffet restaurant and thematic restaurants have a wide variety of plates to satisfy every palate. The chefs know the best recipes and ingredients.
Although the hotel is situated on a quiet area it offers a variety of activities for all ages. It has an entertainment program where you can do activities such as table tennis, mini golf, volleyball, soccer, aerobics, petanque, canoeing, pedalo and different water sports nearby. For younger guests they have reserved the exclusive RiuLand program where they will spend the best hours of fun along with the entertainers. If you like golf, Kaya Eagles Golf Course is ideal because it has multiple tracks.
Surrounded by pine forests, Belek-Antalya is within walking distance of stunning archaeological remains, as Aspestos and Perga, from elegant cities such as Antalya, or natural wonders like waterfalls Kursunlu. You will have the opportunity to see the best museums, theaters, culture and history, flagship stores and squares.
Discover the best of the Turkish coast with Hotel Riu Kaya Palazzo.
GOLF COURSE
KAYA EAGLES GOLF COURSE
650 acres of pine forests in Belek, Antalya is located in the area, the indispensable address of golf enthusiasts Kaya Eagles Golf Club, 18 holes golf course, with spectacular nature of the mediterranean offers guests enjoy a unique golf.
Covered with pine trees in Belek, a world of lush private golf lovers.
Internationally renowned designer David Jones 's signature thematic architecture …
At the intersection of green and blue, this dazzling facility, providing a professional 18 hole golf course with golf enjoyment, domestic and foreign guests' enjoyment they find in the world's best golf clubs giving our southern coast.
Pricing
We can tailor make a package to suit your needs for any duration and provide first hand advise on the various golf courses to play during your stay in Antalya. Contact us today for a quotation you will not be disappointed.