Oitavos Dunes Golf Course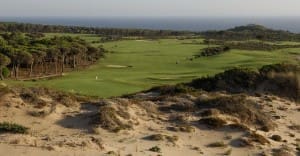 The Oitavos Dunes Golf Course, which was designed by Arthur Hills, was developed by Quinta da Marinha and opened in 2001. Since then it has been recognised worldwide as one of the best natural links golf courses, and its sand dunes and ocean environment make playing it, an experience similar to playing links courses in Scotland.
Oitavos Dunes Golf Course offers also the finest facilities to practice and learn golf. The Driving Range is adjacent to the first tee. It is 300 metres long with 5 target greens, and it has a capacity of 60 players. The north tee is reserved for coaching by professionals and their groups. The Short Game Area, adjacent to the Clubhouse, provides two greens, bunkers, fairway and rough areas. The variety of surfaces provides a perfect location to practice short game skills.
Oitavos Dunes has hosted the Portuguese Open four times (2005, 2007, 2008 and 2009) and has been recognised by GOLF Magazine as:
• Number one golf course in Portugal
• Number three golf course in mainland Europe
• One of the 50 Greatest Courses of the last 50 years