Ribagolfe Golf Course I
&

II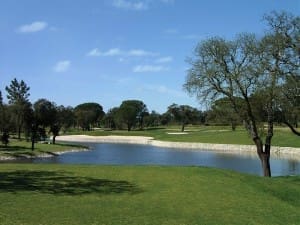 RIBAGOLFE I
This is one of the two Ribagolfe golf courses making this sprawling resort lying within a native cork oak forest, 40 minutes drive from Lisbon. With European Golf Design, Peter Townsend (a former European Tour player) designed this as a championship course.
Total length is 7,370 yards, PAR 72, but an easy course to walk inserted in a beautiful gently sloping terrain. 5 tee boxes makes this a course where most golfers might card a flattering score – greens are huge with only a few contours.
It can be tougher for the long-hitters, positively discriminating strait and accurate players on narrow landing areas, few but well bunkered greens and a few water hazards the threaten the shot; on the 14th, you will need to know just how far and accurate you can hit to make that short-cut.
Once in the course, only a vast area of nature is surrounding you!
RIBAGOLFE II
The design of the second Ribagolfe golf course was assigned to a former "Ryder cup" player, Michael King, with European Golf Design expertise. Is inserted in a natural cork oak tree environment.
This course of 6.200m, PAR 72, is intended for members, with adequate yardage and fairway width much more reasonable. The greens are pretty huge and moderately contoured. Water hazards are in play in holes 6 and 13, which again adds to the cool comfort of a peaceful day spent golfing with friends. Other hazards like little dales threaten the tee shot on the PAR 3 holes.
A serious piece of golf with excellent green-keeping to match, surrounded by vast areas of nature.