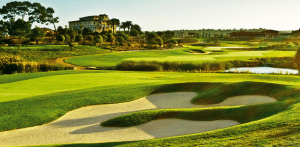 Son Gual opened in October 2007 and was the dawning of a dream that began in 1995 to design and lay out a high quality golf course. It is set in the grounds of the Finca Son Gual near to the village of Sant Jordi, and in the "Valley of a Thousand Windmills".
The course was designed by the former German amateur champion, Thomas Himmel and it boasts some wonderful bunkers and more than 1,000 olive trees.
The Son Gual golf course, set on the outskirts of Palma, is beautifully manicured and designer Thomas Himmel has created a wonderful course by incorporating the natural rolling terrain into the design. The generous fairways and wide landing areas will lure the player into going for the big ball but could be challenging.