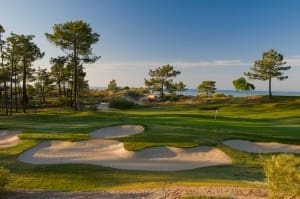 The Troia Golf Championship Course is located on the Troia Peninsula – about 40 min. drive from Lisbon. The Troia golf course lies on a long flat and sandy stretch of land across the Sado Estuary, which separates the Setubal lagoon from the Atlantic Ocean. In this scenic location, golfers will enjoy one of the most fascinating and challenging golf course in Portugal.
Narrow greens and huge sandy bunkers
Troia golf course is a major challenge to any golfer. Troia Golf is one of the links golf course (on the sea side) designed by the famous Robert Trent Jones Sr. The prestigious architect's signature can be seen on the greens, which are small, narrow and always well protected, sometimes by huge bunkers.
The principal obstacle of Troia Golf Course is sand which borders the whole course, where pine trees and wild plants are also found in abundance.
All this might give the idea of an almost impossible golf course. Nonetheless, when at the tee, the fairways seem to be wide and do not show many signs of danger. Only later does one understand that the real challenge of the Troia golf course is to arrive at the greens in such a way that a respectable score can be obtained.
Challenge and beauty
From the back tee the Troia golf course opens with drive over a sizeable lake and the green is so closely bunkered that even big-hitters will have difficulty in getting home in two. Then comes, hole Nr. 2, a stunning par tree with the green nestling on the edge of the beach, some 200 m. distant. The 3rd hole of Troia golf is such a beauty that it will enter immediately among the 18 holes of Trent Jones' dream eclectic course. The 4th, played along the edge of the shore is another par tree, much shorter than the second; it is very tightly protected with a cavernous bunker waiting for the tee shot which drifts away on the sea breeze. There is only one slight respite the short but tricky par 4, hole number 8, before the turn.
The start of the second nine of Troia Golf Course is relatively gentle, but then the finish comes out of the pine trees and grabs you by the throat. There are two Par fives out of reach of normal mortals, three long par fours and a par three with extremely narrow green. Try Troia golf course off the forwards tees first and move back when you feel you can handle a little tougher challenge.